Auto Cool Fan
Product Code:

Auto Cool Fan

Availability:

In Stock
426 AED

149 AED

Ex Tax: 149 AED
Auto Cool Fan - is what any driver needs!
During hot summer days, only a fan helps to cope with the surrounding heat. After all, the air conditioner can be installed in the office or at home, but what if it is not provided in the car? Or the car is parked under the sun getting heated that much that it's impossible to get in? In this case, there is only one way out – Auto Cool Fan.
Auto Cool Fan is a compact (15x11x6 cm) auto fan on a solar battery (the size of the battery is 5.5x5.5cm). Its body is made of black plastic and is equipped with a holding lock for installation. The product's weight is only 320 g, so it will not create any additional load on the glass. At the same time, the fan provides sufficient air circulation in the car's interior.
Unlike standard models, it does not require additional power because solar energy is enough for it. Thus, such a fan will not consume battery charge and will not create additional loads on the car power grid.
---
How it works?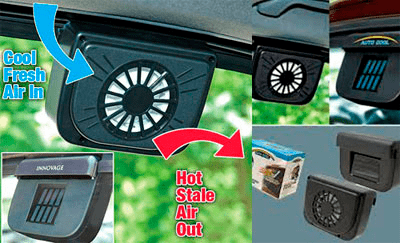 The concept of operation of the Auto Cool Fan is very simple. It is hung on the slightly lowered glass inside the car, after which the glass is being up almost to the top. A very small gap remains, which is covered with a special latch and seal. It protects the interior from falling rain or insects. Using this narrow gap for illegal penetration into the car is also impossible.
Moreover, through the gap, hot air will come out the interior, and the fresh one will get inside. The autonomous fan is equipped with a solar battery and has a small electric motor. Under the influence of sunlight, the battery generates a current that feeds the motor. The fan starts to blow out hot air outside, while simultaneously drawing fresh air in from the street.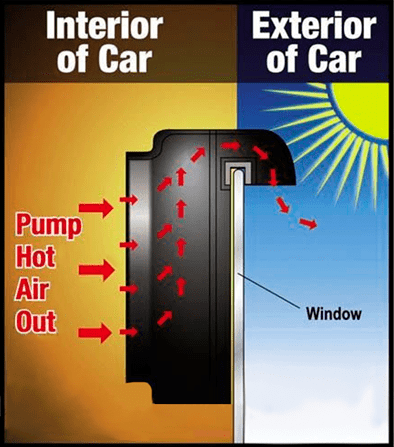 Thanks to its design, the device does an excellent job not only with cooling the interior. It also allows you to get rid of the cigarette smoke smell and other unpleasant odors. Installing the Auto Cool Fan on a solar battery can be done in few seconds on any glass of any car
---
Auto Cool Fan has many advantages:
- Cooling the car interior during parking;
- Possibility of leaving pets in a closed car without worrying (it will not be soggy for them);
- Possibility of leaving a kid in a closed car (for a short time of course);
- Reducing the load on the air conditioner (if still using the fan while driving);
- Installation on any sliding windows of any car models.