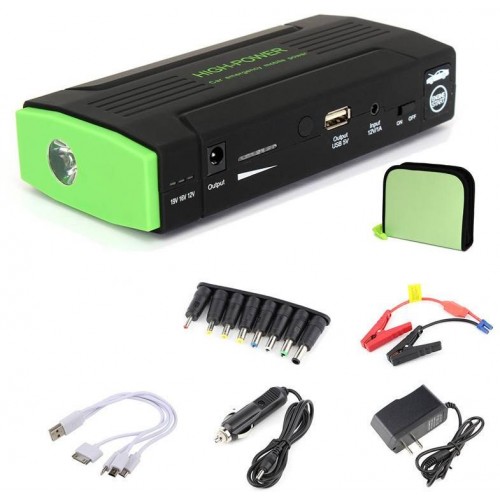 65000mAh Car Mobile Multi-Function Jump Starter Charger Battery Power Bank
Product Code:

Car Mobile Multi-Function Jump Starter

Availability:

In Stock
Charging for mobile phones and laptops, starting cars, adjustable led lights (torch, strobe lights and sos lights).
Multi-functional emergency kit that contains a car power bank.
Variety of chargers and jump lead that can give your car and your products the extra energy they need.
With a zipped case that also contains the adapter tips and power lead, this product will fit in your car to be used in case of emergency.
It uses high-power battery that supports fast charging, low self-discharge, up to 1,000 charging cycles.
It supports vehicles with 12v voltage or more. To start your car, firstly you should connect the power bank with the battery holder and then connect the negative and positive connectors of the holder with your car battery.
There are a variety of adapters that be used to charge various mobile phones, sony psp, mp3/mp4 players, pdas, notebooks, car refrigerators and other compatible appliances.
It has 3 different kinds of lighting modes - you can use the flashlight and sos lights in the dark in case of emergency.
Cautions:
To avoid from accidents, make sure note the following cautions:
1. Take off the main unit within 30 seconds after starting the car.
2. Don't clip the two terminals at the same end on the battery.
3. Don't disassemble the unit.
Package includes:
1 x power bank
1 x wall power adapter
1 x cigarette lighter charging adapter
1 x cable
8 x connectors for laptops
1 x four-in-one mobile phone adapter cable
1 x set of startup clamp wire
1 x carrying bag
1 x user manual